I help individuals and businesses to achieve their goals – with clarity, experience and empathy.
From Controlling to Coaching
The constant in my life has been CHANGE. Born and raised in the East of Germany, I moved to the South for my education. During my long career as a Controller and the time spent abroad, especially two years in Ireland, contributed to my personal growth and left a lasting impression on me.
Breaking new ground is worthwhile, I have learnt. And how helpful it is to know your strengths and to use them again and again. I was no longer happy in the financial sector. Instead, I used my strengths and found new ways, eventually even my heart's desire: to help people recognize and develop their potential!
Today, my clients continue to confirm that my decision to move away from controlling towards coaching and consulting was the right one. It gives me great pleasure to see how much more successful and satisfied my clients are after the Coaching journey.
I appreciate clear structures and a transparent approach. In an atmosphere of mutual trust, I accompany you with great empathy on the path to your goal. The solution lies within you, I am happy to help you find it!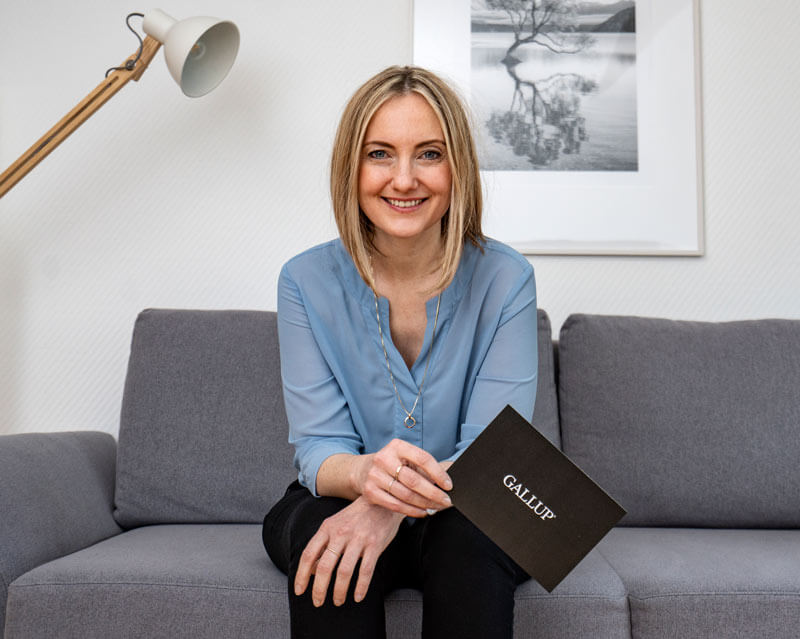 More than 20 years of professional experience in Germany and abroad, in corporate groups and medium-sized companies, as well as many years of experience as a coach for specialists, managers and self-employed people make me a competent sparring partner for your needs.
My business studies and coaching training help me to combine theory and practice in the best possible way. I like to keep on learning – all the time.
Most important are my family and friends. I get my energy from nature, horse riding, yoga and reading. This helps me to challenge myself, broaden my horizons and grow.
My clients expect professional and up-to-date support. The concept of lifelong learning applies to me. My qualifications started with my studies in Technical Business Administration at the University of Applied Sciences Offenburg, which is one of the foundations of my Consulting and Coaching activities. In addition to the Systemic Coaching Diploma, including a Diploma in Leadership Coaching and NLP, obtained at the Coach Akademie Schweiz, I am also a Gallup Certified Strengths Coach
®
. Various intercultural training courses complete my profile. However, this is only a foundation, alongside my many years of professional experience, which I consider essential.
In order to continue my personal and professional development and to be able to offer my clients new content, I continuously attend various training events and exchange ideas in professional coaching and training associations.
My understanding of coaching services
For me, coaching is the professional accompaniment of a change process. The approach of systemic coaching is value-oriented and, like strengths coaching, future-focused. Whether professional or private, your individual concerns or concrete goals determine the agenda of our sessions. It is crucial that we build a trusting relationship with each other.
In a one-to-one interview, I ask you specific questions in the role of a neutral observer. I listen carefully and use structured forms of intervention depending on the topic and situation. My aim is to sharpen your self-awareness and broaden your perspectives so that you can actively implement your desire for change with newly acquired resources.
It is important to me that we develop concrete and practical options for action that you can integrate into your everyday life. This is the only way to bring about change. Joy of life and determination should take over. At each coaching session, we review your progress to monitor your success.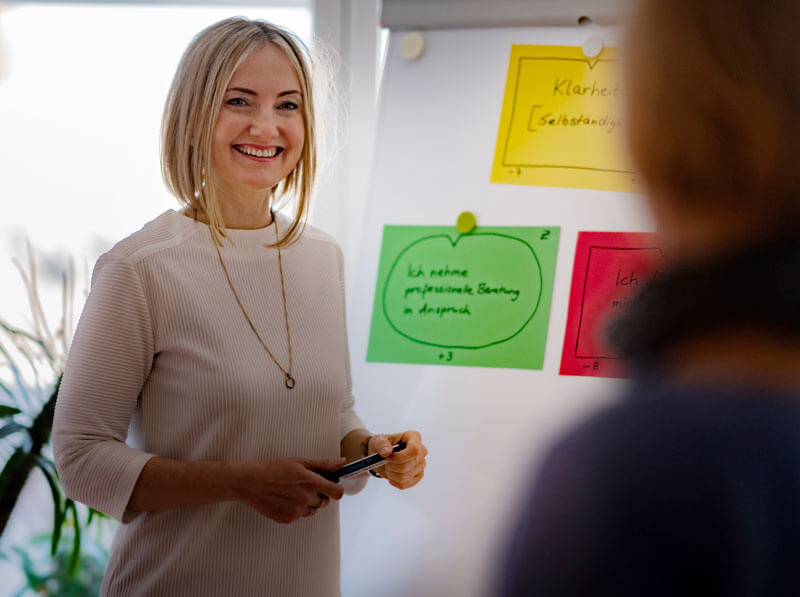 Strengths coaching can provide a personalised approach to the following coaching topics:
Identifying talents and developing strengths
Developing a life vision; setting medium and long term goals
Developing and refining leadership skills
Overcoming doubts and hesitations; releasing mental blocks
Reflecting on conflicts and developing solutions
On the one hand, you should not wait too long if you are stuck in a dead end; on the other hand, only an open and determined attitude will create the willingness to change.
What is the coaching process?
Each coaching session begins with a free preliminary meeting to get to know each other. We then agree the coaching objective and the 'rules of the game'. These include the duration of the coaching process, confidentiality, support between coaching sessions and billing.
In coaching, YOU are (and remain) the expert on your own challenges – unlike in training or professional consulting. I support you! We usually agree on concrete (homework) tasks to be completed before the next session so that the development process progresses as desired. At each coaching session we review your progress.
In our final meeting we reflect again: "What were your goals and have they been achieved?", "What has changed for you in the course of the process?" and "How does the implementation work in everyday (working) life?". After discussing what still needs to be done to integrate the new things into everyday life, we conclude the coaching with a feedback session. For me, the best feedback is a recommendation to colleagues or friends. Or a personal testimonial.
Testimonials from my clients
"Constance accompanies me and my team on our strengths journey and has helped us to learn more about our own strengths, understand our team dynamics and bring us much closer together as a team.
She has a strong empathy for each of us and always takes our wishes and needs into account.
I highly recommend Constance. Having her at my side is a great asset, as she has a variety of methods up her sleeve, which she uses specifically depending on the situation.

Thank you for your coaching Constance, it has not only helped me personally but also the whole team"
Marina Jeworutzki
Head of Department Applications Accounting & Controlling
"Constance coached me for over seven months. She helped me find the right career path for me with her very professional approach and empathetic nature. The strengths coaching helped me to recognise and value my strengths. Thanks to her I have gone through a valuable development process in the last few months. I am very grateful to her and would recommend her to anyone!"
Susanne Fichtner-Feigl
Founder & CEO
"I took advantage of Constance's strengths coaching and I can say quite clearly that I did not expect such success for myself. My goal was to learn more about my strengths. I ended up learning much more about myself than I expected. In particular, about how I can use my strengths to focus better on my job, to manage the day-to-day business and to be a better leader. This also applies to my personal life, which I want to focus on more in the future. I can highly recommend a coaching with Constance."
Simon E.
Department Manager, Automotive Supplier
"The best idea I've ever had (based on a recent jelly bean advert)" – I can't say it better in my own words. I thank you from the bottom of my heart, Constance, for your guidance from the standstill back into the flow: the flow of writing, the flow of ideas, the flow of work, the flow of inflow, the flow of energy, the flow of life… and thank you also for your "help for self-help" in relation to my inner boundary flow, alternating flow and reflux. All may – nothing must.
"No one can build you the bridge on which you of all people must step across the river of life, no one but you alone." ~Friedrich Nietzsche
With this in mind
all my love
Tamara D.
Environmental Education & Health Press Service
"Our coaching had depth and helped me to trust myself and my strengths. Constance guided me through the whole process with professionalism and sensitivity. I am very grateful to her for standing by me during an exciting time and helping me to build a solid foundation. "
Kerstin M.
Business coach and mentor to online entrepreneurs
"Constance works in a very focused way and quickly understands where to start. She quickly created a relaxed, personal and positive atmosphere in which I felt very comfortable. With her warmth she supported me very much in my process of finding my strengths. I can now use the insights I have gained in my professional and private life. This makes things easier for me. I can highly recommend Constance!"
Karin K.
Social insurance expert
"It was with excitement and curiosity that I decided to do Strengths Coaching with Constance and I can say that my expectations were exceeded! With her empathetic and positive manner, Constance guided me professionally. Many things became clearer to me. After the coaching I already had some moments of insight and was able to handle difficult situations in my job better. I would like to thank Constance for her input and output."
Bettina K.
Commercial employee in the construction industry
"My strengths coaching with Constance was very exciting and enlightening. Some things were completely new, others were familiar and were refreshed and re-examined through the coaching. The beauty of it all is that I can use the insights not only for my career and professional environment. The coaching with Constance was also very helpful for my daily family life and my private environment. On top of that, Constance's sympathetic and professional way of working with me – it was simply fun, motivated me enormously and took me further!"
Sina B.
Self-employed entrepreneur and family manager
What or who is still stopping you from contacting me?
Are you still unsure? Are there any beliefs ("inner monsters") that still hold you back? Are you hesitating because of missing prices? Regarding the last point, I would like to say that I use the usual market rates for coaches. You may be able to claim the cost of the coaching as training expenses for tax purposes as the aim is to improve your professional skills. In Germany this applies. I will be happy to discuss the coaching that is right for you in our first meeting and answer your questions – free of charge, of course. Book your appointment now.